Tattoo Removal
(Tattoo Removal is currently available at our Dallas location only.)
Time changes our attitudes and opinions, and sometimes we rethink our decisions from the past. When you got your tattoo, it seemed like something you wanted to keep forever. Now, you've decided to make a change. Maybe you're interviewing for a job, getting married, or just wanting a new start. Whatever the reason, our Tattoo Removal treatment featuring the Alma Harmony XL Laser with ClearLift technology is the right choice for you.
Harmony XL is a robust, modular medical aesthetic treatment platform offering practitioners nearly 20 distinct laser, light-based and ultrasound technologies.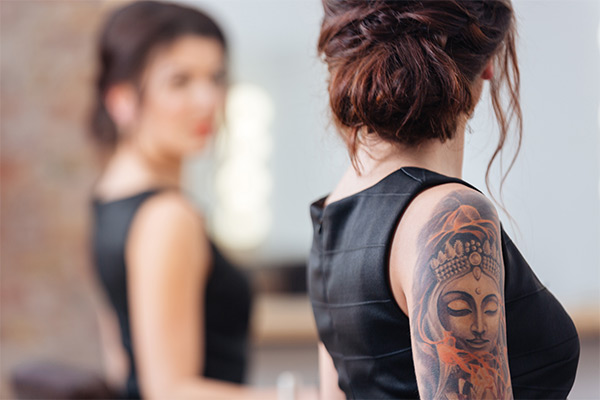 Does Tattoo Removal Work?
The success of tattoo removal using any modern method depends on several factors:
The size of the tattoo area

The color of skin

The depth of ink or pigment of the tattoo

The laser method used for removal
How many treatments are necessary for tattoo removal?
The number of treatments depends on the size and placement of the tattoo, the colors of ink, and the age of the tattoo. Your patient counselor will talk through all of the factors and options with you at your first visit.
What kind of results can I expect?
Some tattoos can be removed completely and others will fade dramatically depending on all of the factors discussed. Your patient counselor will guide you through the process and be available for questions.
The All-New Alma ClearLift Technology
Successful multi-color tattoo removal requires a high powered laser that can deliver enough energy within the absorption spectrum of a wide range of colors.
The high power Q-Switched Nd:YAG 1064 nm laser is ideal for treating darker ink colors (black, blue and green), while the 532 nm wavelength is effective for brighter ink colors (red, orange and yellow). The mechanical Q-Switched effect works by vibrating and breaking down the ink particles in the tattoo. As the area heals, the body's immune system flushes away the shattered ink particles, causing the tattoo to fade with minimal risk of scarring or hypopigmentation.