Acacia Chouteau, Nurse Injector
Schedule Your Appointment
If you don't see an appointment time that fits your schedule, please call us at 214-987-9200.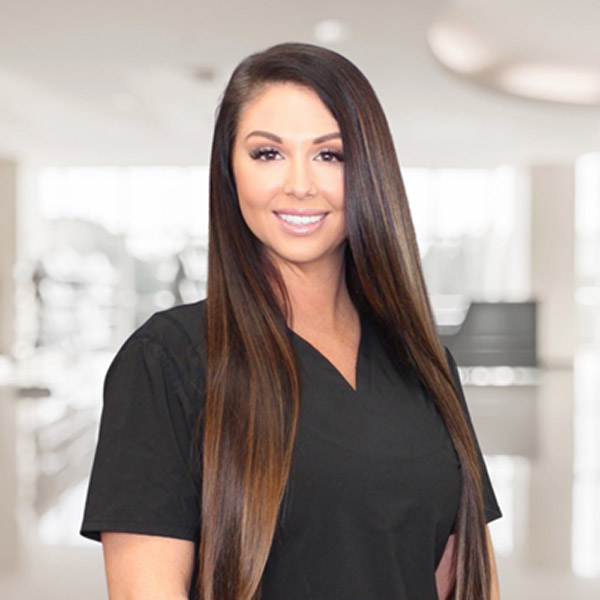 Acacia is a Registered Nurse formerly with Baylor Scott and White hospital. She has worked in various clinical settings including assisting in both plastic and medical surgeries, and worked in surgical pre-op for the past six years.  Acacia has obtained her Medical Aesthetic Certification from the National Laser Institute, and has received the Advanced Botox & Filler Injection Certification.  Acacia combines her knowledge, caring nature, and clinical training in cosmetic injections to achieve beautiful non-surgical results for her patients in a safe, comfortable setting. "I strive for perfection and take great pride in my work. My goal is for my patients to look radiant and feel confident."
I love Acacia! She's very conservative with her injection work and listens to what you really want.  
– Jenica H. TMS Allen
This was my first time at the Allen location. The front desk staff were very friendly and answered every question that I had. Acacia was my injector and made me feel very comfortable. I am happy with my results and will be using Acacia in the future. Thank you!
Love this place, such a nice staff!! Acacia is amazing. 6/10/2020
The entire staff at the Allen location is AMAZING! I adore them to pieces! Acacia is the absolute best at injectables- she has such a gentle touch you truly do not feel any pain! I unequivocally can say this is the very best of the best!!! I drive all the way from DENISON – they are just that good!!! The prices are extremely reasonable & the staff exudes professionalism & superb customer service! Go see these ladies – you'll be so glad you did!!! 2/1/2020
I have enjoyed all my experiences and the staff is the best! Never judging and all laugh's! They are all real and never fake! Love them all! 10/3/2019
Acacia and staff were so kind and took the time to explain every step and to make me feel comfortable 9/10/2019
Acacia is one of the best Botox injectors in Texas. I am so pleased with the amazing results. The staff are super friendly and I highly recommend you go here. They also have incredible deals! 9/24/2020
Consistently happy with results. Acacia is top notch! 1/6/2021
Acacia was great 2/23/2021
…I got Dysport in between my eyebrows… Acacia was super informative. It wasn't painful at all, just a tiny little pinch that lasted a couple seconds and it's over. I was going in for lip filler too but since it's my first time she recommended I reschedule since I'm traveling and we didn't know how I would do in regards to bruising and swelling. I'm thankful we waited, I'll definitely be a customer for a long time. Thank you again everyone at Total Med Solutions. 8/1/2019
Acacia was honest and patient with me and so sweet! She did a great job! I will be going back soon!
I did 12 weeks of the b12 fat burning shots and I feel great! Haven't been sick, lost some pounds and my hair grew 5 inches, it has never looked better! The staff is wonderful at the Allen location, they are so sweet and are happy to answer any questions you have about weight loss without pressure to buy services. Very professional. 11/30/2020
Debbie does a wonderful job. So glad I found her. 1/27/2020
Acacia is great! She's very easy to talk to and really listens to your concerns. You'll love the results! 1/6/2021
Great Experience! Acacia is always very professional and very knowledgeable when it comes to fillers. I have been going to her for 2-years. Will continue going to her.👍🏼 2/24/2021
I would highly recommend the Total Med Solutions on La Sierra. The staff is extremely professional and super clean. 1/21/2021
I go to the office in Allen. Acacia is my nurse and I've been working with her for about a year getting Botox and today I got my first Voluma injection in my cheeks. WOW!! She did an amazing job giving me gorgeous plump cheeks. She is adorable and very kind and down to earth. The facility itself is very neat and clean. The whole staff is sweet and helpful. Never had a bad visit here. These people are very kind and professional. Highly recommend this med spa! (I've tried many) 10/1/2019
Acacia is simply outstanding. She's got an eye for her craft that training cannot teach. She is an expert and I refuse to go anywhere else for fillers or botox. I have been to several places and no one can come close to the perfection Acacia delivers every time. Not only is she great at what she does, she is honest and to get a double whammy like that at any business these days is rare. Thank you Acacia for simply being YOU. 6/19/2020
Acacia does a Great Job. Very informative and very satisfied with her service. The office is very upbeat and caring as well. Thank you so much! 7/10/2019
Acacia did an excellent job with my Juvederm injections. All the staff was cordial. 5 stars all around. 8/20/2019
Acacia provides excellent treatments and explains every step so there are no surprises. 6/9/2020
I've been getting BOTOX for 16 years and Acacia is FANTASTIC. She's gentle, precise, and professional. I went in for a brow lift and that's exactly that I got. I'm very pleased. 7/30/2018
This is my go to place for botox. Quick and convenient scheduling, friendly staff and super clean office. 12/18/2018
This was my first time at the Allen location. The front desk staff were very friendly and answered every question that I had. Acacia was my injector and made me feel very comfortable. I am happy with my results and will be using Acacia in the future. Thank you!
Acacia is the absolute best. She knows her clients AND their faces.
Acacia always does an excellent job, no bruising she is super gentle and attentive.
Very pleasant staff at front desk. Açacia is always prompt and is an expert at what she does.
Acacia is A+ RN and aesthetician. I drive to Allen location as they are the most welcoming. Tip notch
Amazing med spa and can not recommend Acacia enough… she is amazing
Acacia is the best ever, I wish she worked closer to my house!
Acocia is amazing. Highly recommend her. The entire office is a pleasant experience and well ran.
Acacia is the best of the best!!
Love Acacia, I feel super comfortable asking questions and she always does a fabulous job! Highly recommend!!
Front staff welcoming, Acacia is always amazing 👏
Was a awesome experience I was scared because it was my first time but Acacia at total med spa made things so comfortable and answered all my questions. I will totally recommend her to all my friends.
Been going for years. Love Acacia!
Absolutely love this place. Acacia is awesome. So fast and so easy for the BEST results.
Acacia is the absolute best. She knows her clients AND their faces.
Acacia is such a pro and so patient and kind. I send her people as much as I can and unless I trust someone and respect their work ethic that is not the case. She does not try to over sell ir over do her recommendations are spot on;) I highly recommend her!
I am SO amazed by Acacia. I went in to get my lips filled, this was my second time seeing her, and I mentioned that I was very insecure about my chin dimple and asked if there was anything she could do even if it wasn't that appointment.. Not only did she do a phenomenal job on my lips (as always) she actually did Botox and filler in my chin the same appointment. I almost cried when I saw the results.. I have been soo insecure about my chin for as long as I can remember and she just erased years of insecurity within minutes. I feel so beautiful, she listens and hears you and takes her time to perfect what ever she is doing. What a gem, an injector like this is so rare to find. Thank you so much girl! I am so incredibly happy and greatful!! I 10/10 recommend her every time .🥹
Acacia is the best! She is very skilled at fillers and is a perfectionist. I wouldn't go to anyone else!
Efficient. I appreciate not being nagged to buy more services than I went there to get. I had Botox done. I've never even had a bruise Since Acacia had been doing my Botox. That's about 2 years of treatments. She is great!
Acacia is wonderful. She really works with you to help you achieve your goals. She will explain everything including the cost and make adjustments to your treatment plan if necessary.
Acacia is the absolute best!!! She's kind, gentle, caring and she makes each visit as comfortable as possible!
Acacia is the best nurse injector! Accurate, friendly but very professional.
I love the staff! Very professional and willing to help you. Acacia is GREAT! I am always pleased with the results. Will continue go to her.
Thanks Acacia! You are the best ! My favorite specialist! Acacia makes me feel satisfied, like a brand new) very happy to trust my face to her for years! Thank you a lot! You make women happier ❤️
Acacia is the best!!! Always a great job…very sweet… great advice!
Acacia is awesome! She always does a good job but super impressed with the results from the most recent visit!
Acacia did an excellent job with my juvaderm injections. All the staff was cordial. 5 stars all around.
Acacia is PHENOMENAL!! Knowledgeable, patient, & honest!
. I drive 42 miles to get my Botox and Juvaderm at this location because the service is always excellent. I don't trust anyone but Acacia to give me my injections. Everyone here is so professional and courteous!
Acacia did an excellent job with my juvaderm injections. All the staff was cordial. 5 stars all around.
Amazing, Acacia is a miracle worker!
Acacia is very at good giving injections of Botox and Dysport, in my experience. She is very knowledgeable and gives them painlessly. The outcome is always excellent. This is coming from someone who has both a dermatologist and plastic surgeon in the family.
Acacia is a miracle worker! I trust her to do what's best for me, every single visit!
The RN Acacia is amazing and listens to your needs. Go see her and total med solutions. I highly recommend her. She is amazing and highly informative. She has really helped me achieve my goals.