Judy Hubbard, Nurse Injector
Schedule Your Appointment
If you don't see an appointment time that fits your schedule, please call us at 214-987-9200.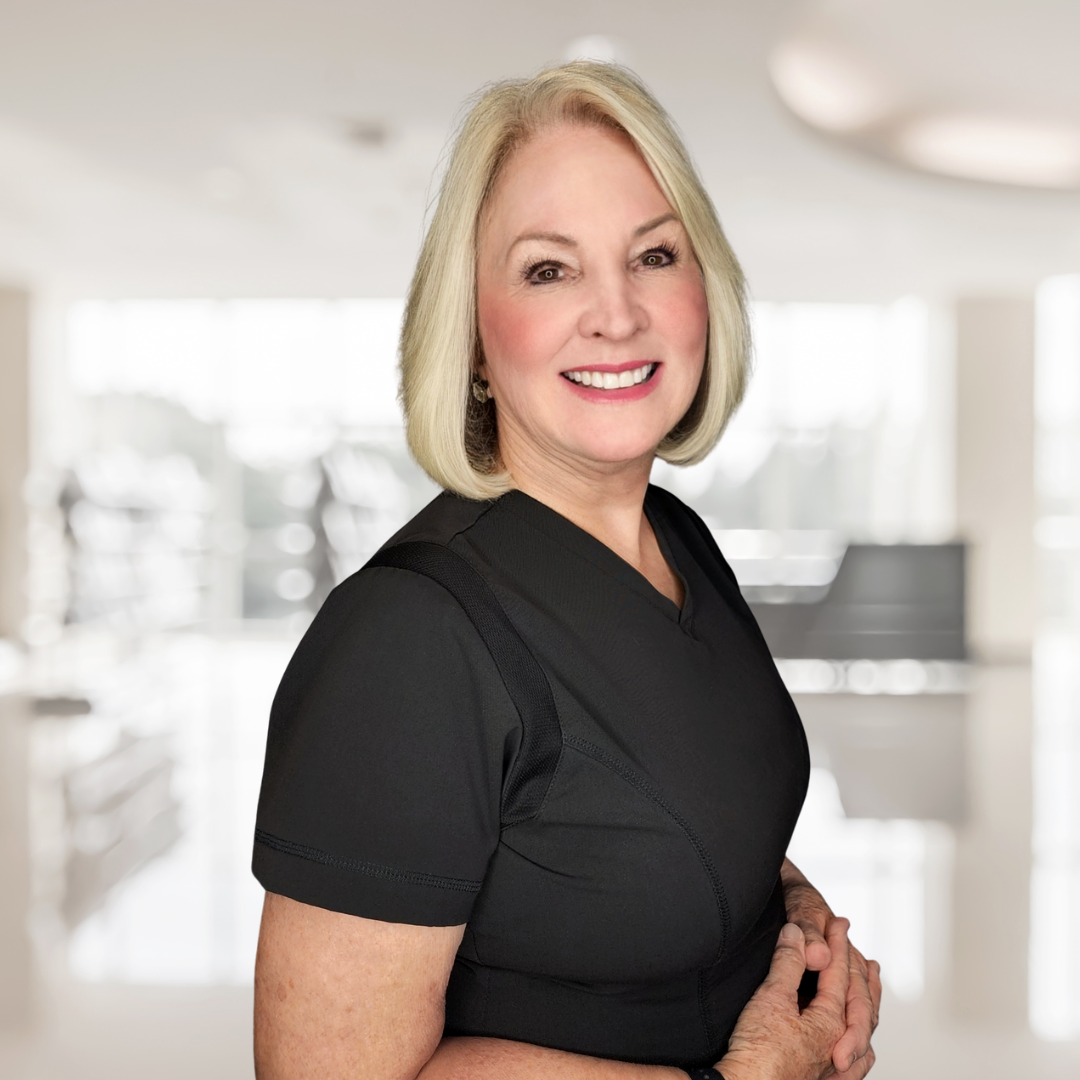 Judy was born and raised in Houston, Texas.  She graduated from University of Houston with a Bachelor of Science Degree in Nursing.  She began in aesthetic medicine in 2000 has experience in family practice and plastic surgery also.  As a cosmetic nurse injector she has been trained to inject neurotoxins and all Restylane and Juvederm dermal fillers along with Scupltra and Bellafill.  She , also, is trained to do treatments with Skinpen and Plasma IQ pen.  Judy has a passion for helping people look and feel better about themselves and their appearance. Judy is the mother of four children.  In 2019, she moved from The Woodlands, Texas to the Dallas-Ft. worth area in order to spend more time with family.  She enjoys working, living and being part of the Grapevine/Southlake community.
Ellie T.
Communication, Professionalism, Quality! Great experience here!
Will go back again!
Judy was perfect!
She really loves what she does and it shows! She's an excellent communicator and I barely felt a thing.
Great and friendly staff too! 10 stars!
– Ellie T. TMS Hurst
Ellie T.
Judy was perfect! I got Botox and lip filler. She's a great communicator and so gentle I didn't feel much more than a pinch.. I will be back for sure! The staff are super friendly as well. 10 out of 10!
-Ellie T.
TMS Hurst
Janell P.
Wonderful experience and the staff is friendly!
AM
Judy takes her time and is meticulous with cleanliness. The staff is nice and respectful and never tries to oversell. 12/2/2020
Ariann P
JUDY! That's all I can say…You want EXACTLY what you're looking for in Lip injections than Judy is your girl. She's ABSOLUTELY amazing, she does not blur the lines for you, which I absolutely love. When it comes to your face and messing with your personal looks as much as you may not like the truth IT NEEDS TO BE SAID. She doesn't sugar coat anything, she will tell you everything you need to know about what you are getting done, how it will feel, what looks best in her professional opinion, etc. Because Judy did her job so wonderfully I left Total Med today so incredibly happy! Thank you, thank you, thank you Judy. I will not be going anywhere else! 3/3/2021
Brandee
JUDY IS AMAZING. Love my lips! Simply the best 🙂 CALL THEM BEFORE BOOKING YOUR GROUPON to ask for their advise & to ask for Judy at the SOUTHLAKE TX location 😘5 STARS ⭐️ ⭐️⭐️⭐️⭐️ MY NEW GO TO here on our! Thank you JUDY! 2/23/2021
Brandon L.
Fantastic service and lovely staff. The work they do is awesome too, I am 100% satisfied!! 2/10/2020
Cheri C.
I am extremely veiny around my eyes and every injectionist I've used in the past has bruised me. Judy takes time to make sure she doesn't hit a vein and has never left a bruise! She's so cute she even holds her breath because she cares so much. Their prices are reasonable and Judy has never once tried to upsell or talk me into more units that may have an unnatural look. I highly recommend her! 2/13/2021
Denise M.
I had never looked at a med spa for anything, but with another birthday around the corner, I decided to look into options for my face. The goal was to look as young as I feel. When I first went here, it was for a consult and I truly did not think I would leave with an appointment. After spending time with Judy, I knew I found the who and where I would take the leap! Judy instilled confidence in me to do this by not being pushy or rushed, answered all my questions and made the consult very informative and helpful. The results of my work are not final yet, and Judy prepared me realistically about the what I could expect, but I was amazed at my before and after pics immediately. Its great to have a friendly, professional to work with who genuinely takes pride in her work and can share my joy! 3/18/2021
Delia J.
They really wanted to accommodate our every need. Very clean and beautiful office. Judy handled us with such care and was very knowledgeable. Plenty of experience so that was a plus. Loved my lips and my mother's also looked amazing. This will be my go to place from here on out. Very happy and pleased . Thanks to the whole staff, I enjoyed you all. Very professional! The Flower Mound office is great! 7/2/2020
Esmeralda V.
Just left from getting some treatments by the injector Judy and she was amazing. Very pleasant and comforting. Also met with Belinda and she was very sweet and hospitable. Will definitely return. 8/6/2020
Gabriel N.
Fantastic! I was a first-timer for Botox and I couldn't recommend Judy more. She is straight-forward, asks what you want & delivers, and is incredibly gentle. I didn't feel a thing! The staff is welcoming & kind and I'll definitely be going back! 5/26/2020
Mary B.
Very Nice! Everyone was polite and professional and Judy was great. I barely felt anything when she did the injections!! 🙂 5/22/2020
Rowa H.
This is the most amazing place for everything beauty and health. The staff is so warm & welcoming. The injectors are all fabulous and make sure you love their work! Judy at the Southlake TX did my lips and I couldn't be more thrilled!! She is amazing!! I would recommend this location to everyone! 7/10/2020
Sara G.
Judy was awesome! She took so much time and care with my filler and I am really happy with the results! This was the best experience with fillers that I've had yet. I will be returning to the Southlake location in the future! 3/4/2020
Sharon
Judy is great!!! 12/22/2020
Tammy H.
I've been to total med solutions twice now & have been really happy with my experience. The staff is friendly and the prices are reasonable. I've seen Judy both times & she did a great job. She is very sweet and professional. Highly recommend! 2/11/2021
Victoria R.
I got a full syringe of juvederm in my lips & 50 units of dysport in my forehead and I'm in love! Judy did a fantastic job! 6/9/2020
Rubi O.
Judy and Debbie are amazing! They keep my face looking great always. Clean, comfortable, professional atmosphere, my go to for health and beauty at a great value.
Ellie T.
Great experience here! Will go back again! Judy was perfect! She really loves what she does and it shows! She's an excellent communicator and I barely felt a thing. Great and friendly staff too! 10 stars!
Mona
They do a fabulous job! I am never disappointed with their services. Judy is a RN and extremely knowledgeable and honest with the results and best procedures. I wouldn't go anywhere else!
Linda
Reception was very friendly. Ms Judy did a great job with my dysport. Very knowledgeable and professional. I will definitely be back for additional services!
Lace
Judy was so great! She educated me on different treatments for my skin and answered all my questions! I will definitely be going back!
Katy
Very easy process. Judy was fantastic at explaining the areas where she injected the Botox and painless. I will definitely return again!
Linda
The welcome receptionist was very polite and professional. She even enrolled me in a program to earn points for discounts and promotions. Ms. Judy did my injections. She was very knowledgeable and answered any questions or concerns I had. Total Med Solutions was a great experience and I will be returning for additional services. Highly recommend!
Alisha
Judy is excellent, knowledgeable, and experienced. I have been going to TMS for many years and today was the most confident I have felt.
Judy
Judy and staff were awesome. I look forward to my next visit.
Rikki
Judy does an amazing job every time!
Christina
Had a great experience at the Southlake location. Judy made sure I was thoroughly cleansed before needle insertion. Strong numbing too. Nice!
Tamara
Have been getting Botox for several years and have a deep crease in my forehead. Many Injectors have tried to diminish the crease but nobody has done as well as Judy Hubbard has at eliminating this deep crease. She really understands where the muscles are and where to inject and how much Botox to use. Highly recommend.
Danielle
The check in process was simple and fast. Nurse Judy did a great job explaining the treatment plan and follow up care after injections.
Ern
Judy at the Southlake office is great. I've used her 3 or 4 times now. I've been getting dysport/Botox for about eight years now and she is the best I've found. The two girls at the front desk were very sweet and helpful. Only issue is the call-center girl that made my appointment was completely rude and got upset with me when I ask to confirm that I was making the appointment at the Southlake office. She seemed very put out that I would even ask that. They have quite a few locations and I just wanted to make sure I asked for the Southlake office. She was unhappy from the minute she said hello as well. That alone won't stop me from going here, I just wish I had the direct number so I wouldn't have to deal with the random girl at the call center anymore.
Jennifer
I saw Judy and she is so great! She took her time and came up with a plan for what I needed instead of just doing the basic or rushing through. I will definitely be back to see her for all of my following treatments.
Antonio
Judy is amazing. She listens and doesn't try to push me into more Botox than I want. Everything she recommends and does to my face always turns out perfect.
Lea
Everyone is so nice there . Judy is awesome , she takes her time and talk's through everything she is doing .
Winhill
Judy was perfect! Took her time and went thru my options! I'll be back!!
Rosalind
Judy is great. Takes the time to explain the process.
Martha
Always a treat coming to TMS. The location cleanliness, friendly and professional staff, and Judy is top notch!
Elizabeth
I love this office so much! The front desk ladies are so sweet and helpful. And Ms. Judy is my absolute favorite! She does an amazing job and really listens to what I want and gives her professional advice.
Jacinda
My go to place. Amazing injector, Nurse Judy, and friendly front office. Best BOTOX experience I've ever had.
Rachel
I always go to Total Med Solutions. They have the best prices, caring staff, and take the time to educate you on your options and the procedure you are having done. Judy is the best!
Logan
Judy is so sweet and honest. She is the best. I've been coming here for years and she always listens and directs me to the right product for my needs
Rachel
I have tried other places for my Dysport but come back regularly to see Judy and am always happy with my results.
Cherita
Judy is the best and the front desk staff is courteous and efficient!
Mandy
Judy is THE BEST! Thank you so much!
Nancy
Judy was very nice. Would highly recommend this establishment.