Schedule Your Appointment
If you don't see an appointment time that fits your schedule, please call us at 214-987-9200.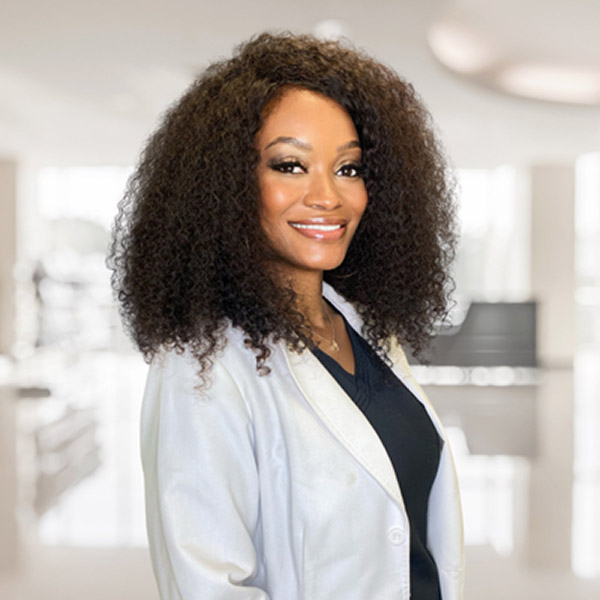 Sonja is a Family Nurse Practitioner who has been in the medical profession for over 14 years. She received her education and training in Central and Northern Texas. She has worked in various clinical settings, including cardiovascular settings, pediatric, family practice, pain management, as well as bariatric/wellness/medical spa settings, which is beneficial when helping patients with diverse and assorted backgrounds and medical challenges.
Sonja received her Master's Degree specializing as a Family Nurse Practitioner from Texas A&M University Corpus Christi, is well trained and adept in providing clinical and aesthetic care to patients including various injectables and wrinkle fillers. She is a board certified by the American Nurses Credentialing Center and has practicing privileges to care for patients nationally. These experiences have led to her specializing in hormone replacement, anti-aging, weight loss, and functional medicine.
Sonja cares deeply about the overall well-being of her patients and also their quality of life. Her professional strength lies in adjusting to every patient's individual needs and going the extra mile in preparing a customized treatment plan to achieve the best outcomes for her patients.
She is ever smiling and cheerful, generating a lot of positive energy around her patients and peers. Her ultimate reward and appreciation comes in the form of satisfied clients and believes nothing satisfies like satisfaction.
Sonja has held memberships with Sigma Theta Tau Honor Society, Central Texas Nurse Practitioners' Association, North Texas Nurse Practitioners and The American Academy of Nurse Practitioners.
Professional Highlights and Certifications:
Family Nurse Practitioner – Board Certified by the American Nurses Credentialing Center (an approved extension of the American Nurses Association)
Epic I and Epic II Certifications by Allergan to inject Botox, Voluma, Juvederm
Merz certification for injecting Xeomin, Radiesse, Belotero Balance, and years of experience injecting Dysport, Restylane, Perlane
Certified by Suneva for Bellafill wrinkle fillers.
Botox and Dermal Filler Certification
EKG Interpretation Certification
Treatment of Hormonal Imbalances Familiarity with disease management
Skilled in conducting physical examinations Successful diagnosis/treatment
BAC screen/drug screen collection ability Computerized charting specialist
Laceration repair and minor procedures Trigger point/joint injections
Preceptor Pain Management experience
Professional Affiliations
Heart of Texas Nurse Practitioner 2010 to Present
North Texas Nurse Practitioner 2013 to Present
Sigma Theta Tau/Honors Society for Nurses 2010 to 2011
American Nurses Student Association 2001 to 2002
Diego Z.
I had my first PRP procedure for my hair loss problem and I am happy with the treatment.
Personnel is very professional and eager to help and clarify any questions I have.
I got educated on latest technologies and treatments for hair and skin care, and definitely I will come back to do more consultations and procedures.
I totally recommend it!
– Diego Z. TMS Plano
Adriana
Sonia was super duper…look forward to go back again..Cheers 12/23/2020
Adriana
Sonia is just brilliant… totally recommend. 1/2/2021
Erin
Sonja was fabulous. My first time having fillers and she made it go so well. I really enjoyed meeting her and would definitely go back to her. Lips were just done today so I can't comment on how they'll turn out but I'm sure they'll be great. Thanks Sonja. 2/23/2021
John T.
John T. Was hoping to get a baseline for my weight loss plan and did the complimentary Body Composition and so glad I did. Their friendly and knowledgeable staff took the time to explain the results and possible paths forwards. Thanks 12/15/2020
Kimberly
Awesome experience with Sonia today. She worked to help me get the results I was looking for. Thank you! 2/4/2021
S B.
Yesterday I went for my first Botox injections (I'm in my late 40's). This is the first time I've had any work done, and I was scared! Sonya worked with me. She was thorough in explaining options for what I wanted and expense. She also was so gentle. I hardly felt the injections at all and have no bruising or obvious sticks on my face. All the staff were incredibly friendly and helpful. I will go back for sure! – 3/18/2021
Vicki
Sonya is amazing. She is very personable and knowledgeable. She inserted my pellet and did my botox today. I highly recommend Total Med Solutions. The entire staff makes everyone feel welcome and appreciated. 1/6/2021
Victoria R.
I got a full syringe of juvederm in my lips & 50 units of dysport in my forehead and I'm in love! Judy did a fantastic job! 6/9/2020
Leslie M.
I am so pleased with Sonja. She's the best. — Leslie M. TMS Plano
Lexie J.
Sonja is wonderful! She is very skilled and very compassionate. She is one of the best! I don't go to anyone else even though it's a 45 minute commute! Love her!
Pam M.
I love Total Med Solutions and Sonia is the best!!!
Theresa
Awesome experience! Sonja was great – she is a true expert at her job. She explains the process beforehand and then reiterated each step as she was performing it.
Theresa
I had a great experience at Total Med Solutions. It was my first time getting injectable fillers & Botox but Sonja was great. She explained everything and was extremely gentle – could barely feel anything. I could see instant results and she said in 4 days to a week the results will be better – especially with Botox.
Marla
Sonja is so sweet & patient. Always get a fair price here. Love the new location.
Lisa
Another absolutely perfect visit! I cannot recommend Sonja enough. If you are looking for a skilled, consultative and knowledgeable injector and strategist for your care, schedule with her at the Plano location. Brilliant!
Elif
Sonia is calming, sweet, knowledgeable. It was a pleasure getting a consultation from her
Rutter
Sonya is the BEST! There are so many services that they offer, I keep going back. I definitely recommend!
Nadia
I like Sonia she is so nice and she explained to me everything I need to know and even she tried to help me to find solutions for something I was wondering about it.
Caroline
Today I went in because I found a Groupon for Botox. Knowing in the back of my mind that if I really enjoyed Sonja I was going to do more Botox than what I got on Groupon. Sonja was so amazing and fun. She was very detailed, explained everything and let me know what everything cost upfront before I purchased it. I even went ahead and let her do fillers because she actually showed me a little board of how each filler felt, how long it would last in my system, and the price difference of them. I thought that was so nice. She even let me use her cute stress ball because I get nervous about anyone touching my face. It was a pleasant experience I will definitely go back and see Sonja again. Thank you so very much for being gentle and working with me.
Mary
Sonja was amazing. She took the time to explain everything to me and made me feel really comfortable. Thank you!!
Susan
I love Sonya. So patient, thorough, and professional.
Laurie
Sonia is wonderful. She is kind, professional and excellent at her job!
Jerry
Sonja is the best and why I return annually for my needs.
Sally
Sonja, the Nurse Practitioner, is great. I've been on their hormone therapy for a long time. She is so knowledgeable and a great listener. All the staff are friendly and professional.
Toni
I've been going to TMS in Plano for over six years and will not go anywhere else regardless where I move to, which is now in Houston. Sonja, Jazmin and the total staff is the absolute very best! Sonja is the Greatest of All Time, she is wonderfully created and talented! I walk out looking and feeling amazing! This visit was my first time getting the pellets and in under 10 minutes or less she was saying to me "ok, your pellets are in". I couldn't believe it, totally painless. I continued to say ti her "no way, are you serious"? I repeated that so many times, she laughed! She is more than I could have ever asked for and expected. TMS Plano is my family for life! I love all of these amazing ladies ❤️🙏🏽🥂
Victor
Best place in town for Botox injections. Sonja Shannon is an RN and is one of the best in DFW. Reasonable pricing and they also offer monthly specials. This review is for the Plano office and it's a five star team that keeps the place running smooth!