Introducing PDO Threads
For Sagging Skin, Wrinkle Reduction, and Volume Enhancement
Aging causes a dramatic loss of facial fat, especially around the cheeks, the eye area, the jowls and the neck. In addition to this loss of facial fat, aging skin also starts to lose facial elasticity as aging skin becomes thinner over time. These two processes result in a longer, sagging face and more, deeper wrinkles.
Now you can treat these problems without having to go under the knife! PDO Threads are a non-surgical facelift and skin rejuvenation procedure that can fill wrinkles and slightly lift your skin. They can help redefine the contour of your face, restoring the V-shape you are looking for. And the best news, PDO Threads naturally produce collagen. It's the aesthetics gift that keeps on giving!
PDO Threads can effectively:
Lift the sagging skin of the cheeks, jowls, eyebrows, and neck
Stimulate natural collagen production
Improve the quality of your skin by increasing volume, thickness and smoothness
Reduces wrinkles (and deep wrinkle lines)
Benefits of PDO Threads
Nonsurgical, safe, in-office procedure using topical or local anesthetic
No incision. No scars
Much more affordable than a facelift
Immediate lifting
Progressive restoration of collagen
Improved skin quality
Natural-looking results without the possible 'stretched look' of a surgical face-lift
Collagen is a very important protein in the skin. As we get older, our bodies gradually produce less collagen. This leads to an 80% reduction in skin thickness by the age of 70. The loss of collagen contributes to the appearance of wrinkles, laxity, and a loss of volume and strength of the skin.
PDO Threads suspend the skin in a position where it is pulled back, thereby slightly lifting and tightening the face or neck. The PDO Threads also stimulate collagen production which leads to tighter, smoother, and more volumized skin.
The threads that are used in treatments are actually surgical sutures that have been used in all types of surgeries for the past 30 years. It has been proven to be one of the safest materials to be used in the body. PDO threads are now FDA cleared for lifting sagging skin in the face, neck and body as well as improving the appearance of wrinkles and skin texture.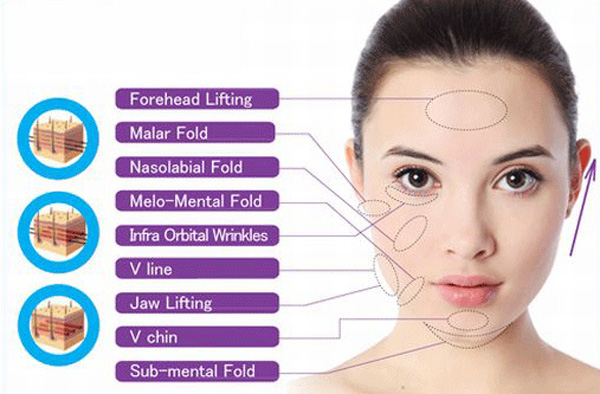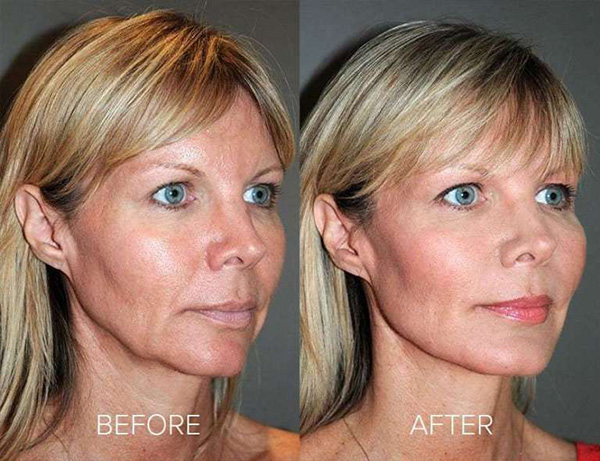 Total Med offers three different types of PDO Threads. These threads can all be combined to provide you a personalized result of both lifting and rejuvenating the skin on your face and neck.
Barb Threads – these may sound scary, but they are simply PDO Threads that have tiny notches or barbs which catch the under surface of the skin and when pulled upward, lifts the skin. Not only does this suture lift, enhancing the contour of the area, but it also induces collagen formation which adds more support and volume over time. Barbs threads are used for lifting cheeks, jawline (jowls), eyebrows and the neck area.
Smooth Threads – these are straight and Smooth threads that are often placed in a "net-like" or mesh pattern to help stimulate collagen where wrinkles and skin laxity are present. Smooth threads are beneficial in treating crepey skin of the face, neck or décolleté. They are also used for superficial wrinkles of the forehead, glabella, cheeks, smoker's lines, marionette lines or lines in the neck. Additionally, Smooth threads can be used to help define lip borders.
Twist Threads – these are simply Smooth threads which have been coiled. When threaded under the skin, they help stimulate collagen and provide volume restoration to sunken areas of the face. Twist threads are used for improving frown lines, nasolabial folds, marionette lines, lips and tear troughs (crease under the eyes)
The PDO Threading Procedures
The process of the PDO Thread procedure is straight-forward and mimics that of dermal filler injections (Juvederm, Restylane). The skin area is first cleansed with an antimicrobial soap and then marked where the threads will be placed. A topical numbing cream is then applied and the threads are then gently inserted just underneath the skin with a tiny needle or blunt cannula (about the size of a sewing needle). The threads themselves are slimmer than fine fishing line. Once all the threads are placed, antibiotic ointment is applied to the insertion points and ice packs are given.
The number of threads needed is determined by the area requiring correction and the amount of laxity present.  The procedure is quick (usually 30-60 minutes), virtually painless and with short recovery.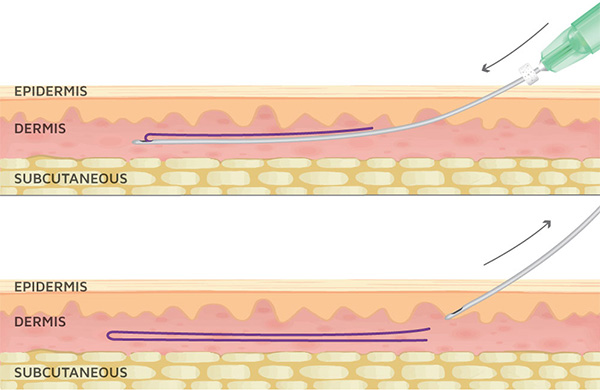 After-Care Instructions:
Patient should use ice packs after the treatment
If there are no contraindications, patients can take Ibuprofen or Motrin.
Avoid exercise for 72 hours.
Avoid hot baths – showers only for 1 week.
Avoid facial massages (or use of a Clarisonic device) for 1 month
Avoid laser, IPL, RF and other energy-based treatments for 1 month
Are You A Good Candidate For PDO Threading?
Ideal candidates:
Men and women 30 – 65 years old
Mild sagging of cheeks, jowls or neck
Good skin quality and soft tissue volume
Less facial fat and a small amount of skin to be lifted
No history of previous facial surgery
Poor candidates:
Excessively thin or severely saggy, heavy skin
Prior facial surgery/ face lift(s), or previous cheek/chin implants
Severely sun damaged, hyper-pigmented skin
What will I look like afterwards and are there any side effects?
It is normal to have swelling, bruising, and soreness (particularly if the cheeks are lifted) for one week. We recommend that patients use ice packs after the treatment and patients can return to normal activities including work the next day.
Most common side effects are localized tenderness, swelling and bruising for a few days after the procedure. As with any procedure that breaches the skin barrier, infection is possible but unlikely.  Occasionally sutures may become visible or skin irregularities (tissue 'tenting') occur however this is easily corrected.
When will I see results and how long will they last?
If you are having a lift using Barb threads, you will see immediate results. If you are having Smooth or Twist threads inserted, these may take 4-8 weeks to see results since collagen must be induced and up to 12 weeks before you can fully appreciate the benefits of these threads.
Outcomes last about the same timeframe as derma fillers, which is 9-12 months, but can vary by patient depending on such things as age and skin quality and thickness.
Finally, the wait is over! PDO Threads are long over-due in the field of non-surgical rejuvenation and they are a welcome addition to the realm of Aesthetic Medicine. Thread lifting is rapidly gaining world-wide recognition as an effective, non-surgical option for treating facial laxity.
Call today to schedule your free consultation.