Schedule Your Appointment
Our Flower Mound location offers aesthetics including botox, weight loss, coolsculpting, injectables, prp/stem cell and vitamin hydration therapy.
If you don't see an appointment time that fits your schedule, please call us at 214-987-9202.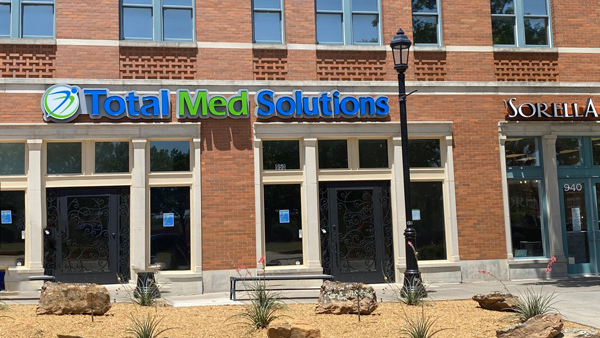 MON CLOSED
TUE 9:00-5:30
WED 9:00-7:00
THU 9:00-5:30
FRI 9:00-5:00
SAT 9:00-3:00
SUN CLOSED
What Our Patients Say
Great service and friendly staff, Thank you especially to Samantha at the front desk as well as the nurse practitioner Doretta Spates!
I can not recommend her more, professional, friendly and most importantly does great work! 
– Abby M. TMS Flower Mound
Wow!! Awesome!!! Emily was great. She was a Total expert and professional. Will come back again.
I had a great experience. Megan was very friendly and I felt totally comfortable. I'll definitely be back! 12/21/2020
Emily is great! She really knows what to do and has made a major different in my appreance. Thanks Emily! 12/16/2020
The office in Flower Mound is awesome!!! The front staff are efficient professional and friendly. Emily is amazing. Fantastic technique and great patient/customer rapport. I recommend this office over other Total Med Solutions sites. (I've used Plano and Dallas) will definitely be back!!! 1/27/2021
I've been a client at TMS for about a year. Truthfully, I've not been location loyal. I've been to Plano, Southlake, and now Flower Mound. I've always had a good experience at all locations, but I will say the staff at the Flower Mound location today was exceptional, especially our injector, Emily. This location & Southlake had an extra special on Dysport this week, so that's why we chose this location today & we're glad we did. 9/29/2020
I was very happy with the entire staff. The front office was very warm and friendly. Emily, the Nurse Injector was great. Emily was very attentive to what my goals were and took her time to make sure that I was 100% satisfied with the outcome. I will definitely be a long term client. 12/11/2020
They really wanted to accommodate our every need. Very clean and beautiful office. Judy handled us with such care and was very knowledgeable. Plenty of experience so that was a plus. Loved my lips and my mother's also looked amazing. This will be my go to place from here on out. Very happy and pleased . Thanks to the whole staff, I enjoyed you all. Very professional! The Flower Mound office is great! 7/2/2020
Went for a weight consultation and was very pleasantly surprised from the time I walked in the door! Receptionist was very pleasant and professional. All Covid protocol observed with pens marked clean and basket to place the dirty/used ones. Front office and exam rooms very clean and everything was very organized. Matthew was exceptional in explaining my In-Body results. Spent time explaining what would work best for my body and why. Very encouraging about test results and made me feel good about myself. The gal who took my vitals and gave me the shot was very warm and welcoming. Will definitely return. Kudos to a great staff!
First time visiting this office. I was impressed with all the staff from the receptionist to the nurse Emily. They were very professional and understanding of my questions. Emily was not defensive when I asked her to see the bottle of Botox (as this happened before in another office). She was gracious, knowledgeable and very friendly. I recommend this specific office and will be back there. 7/10/2020
Great place, started getting Botox for my headaches but helps my appearance too. They're professional and very sweet. 8/6/2020
The Flower Mound team is awesome! They are always courteous and the staff is very knowledgeable.
Had a teeth whitening treatment at Total Med Solutions today and it was great! Only took half an hour and the results are amazing! 8/24/2018
I visited the Flower Mound location and had a great experience. Everyone was friendly and my technician Emily W explained everything before hand. No pain all gain😄 12/15/2020
I visited the Flower Mound location and had a great experience. Everyone was friendly and my technician Emily W explained everything before hand. No pain all gain😄 12/15/2020
Very courteous and professional. Emily took time to explain and staff there never at any time tried to push additional products beyond what I had an appointment for. Very pleasant experience and I will be back! 2/3/2021
The facilities are great and everyone is beyond helpful. Amanda performed my hydrafacial and was amazing! She was so knowledgeable about products and all of the services. I will definitely be back 7/29/2020
Emily's medical aesthetic ability as an RN is the best I have experienced. I started this whole injectable thing when I was 44. I am now in my mid 60's, & still plan on continuing this beauty regimen until the surgical knife becomes a better alternative to achieve my look. I have lived in several areas of the US & Texas & recently moved to the Flower Mound, Lantana area. My previous injector was a physician. I decided to try someone new as the last time I left his office I looked like a platypus & was horrified. Emily is thoughtful, explains everything in advance after a detailed assessment of my desires & what is realistic with different fillers. She also taught me about different fillers, what they do, length of time they will 'last' & made recommendations. She is skilled & has an eye for her injection technique, which is a big deal!. She is very careful and asks all appropriate questions. This type of beauty treatment is a big deal for women & we all know it. If you are looking for a new place to have all this & more, the staff is grreat & Emily as I said is amazing. I oughta know, I'm an RN too but can't inject myself! 10/13/2020
Very nice and clean office. They accept walk in appointments, which works great for my schedule. Rochelle and Sam are awesome!
Howard McKay and the staff in Flower Mound are absolutely fantastic.
I had the Plasma IQ Pen procedure and have experienced significant improvement in less than a week.
During the procedure; they continuously made sure that I was comfortable.
When I had questions after the procedure, my questions were answered quickly and kindly.
I highly recommend this professional team. Make your appointment now – you'll be glad that you did!
I've been going to Total Med Solutions for 4 years. The last one and a half with Emily at the Flower Mound location. I can't imagine seeing anyone else for my Botox. Emily is professional, personable, and shoots straight about what you need. Love Total Med Solutions!
I got lip injections with Emily after having a horrible experience elsewhere. She is patient and explains everything thoroughly. I barely had any bruising or swelling. She is extremely gentle and precise. Im so glad I found someone I can trust. I will definitely be back! Also the prices here are affordable.
This place is amazing!! Best service and as soon as you walk in they give you big smile and that welcoming feeling you need 🌺 thank you beautiful Sophia for being such wonderful receptionist and thank you to all the staff that gave me the best service today🙏
It never takes a long time to been seen! Also very friendly!!!
Staff is amazing, very knowledgeable and does great work!!
Emily is amazing! She always makes me feel relaxed, she listens and takes her time and her work reflects that. Thanks again!
Always nice and professional.
This place was awesome!! I am so grateful for how thorough Cynthia was and I will definitely be going back for any future needs. We have a choice to go anywhere and I believe that everyone's friendly face from the moment I walked in made a big difference in my experience. Thank you!!
Great experience getting Dysport. Will be back.
Loved my service! Will be back!
The injector listened to my concerns about wanting a refreshed look and not overdone . She gave me some information on facials to help my skin and was not pushy with products.
Faye is fantastic. I highly recommend her. She has magic hands and gives everyone the utmost attention
Cynthia is awesome!!! Always has great advice on how and where to use fillers. Will definitely go back for more services.
Karen was very knowledgeable!! Great service:) recommend her
Karen was so awesome and very knowledgeable and informative about the product and exactly what results I would get. I'll definitely be going back.
Friendly and knowledgeable staff! Front desk always polite and warm and Cynthia was amazing!
Karen was great for injections! Very thorough and quick! Front office was great as well. Clean facility and have been going here since it opened. Highly recommend!
Very professional and speedy treatment. Knowledgeable and nice people. Love going there every time I get my Botox. I highly recommend Total mes solution to anyone. 😊
Just left and I'm already feeling 10 years younger. Staff very nice and answered all my questions. Karen knows her stuff!!!
Karen was great! Very informative and knowledgeable. Talked me through the whole process let me know what to expect. Over all I am very grateful she was there and the one I saw for the first time treatment. Thank you Karen and Total Med Solutions team! Y'all rock!
Karen was very knowledgeable!! Great service:) recommend her
I drove 45 minutes to this office in flower mound and by far they exceeded my expectations! Karen Hoffmann is exceptional, patient and a wonderful experienced injector. Will be back
Been going here for years. Friendly staff! Karen was great at explaining the process!
Professional. Knowledgeable. Kind. No hard sell. Pleased with results.
Great experience! Informative consult and I left feeling pretty again
Everything was good about this experience. Great location. And very kwik.
This place is top notch! I always feel so welcomed and comfortable which is saying a lot from a person who suffers from anxiety and awkwardness! They truly care about each patient and will go above and beyond to help them feel and look their best. If you are on the fence about using a Groupon here, this is your push to just do it. One of the best decisions I've made for myself!!
They are awesome.Every time I visit the Flower Mound location, I leave as happy as can be… they have the best service ever.
Karen was professional, knowledgeable, and thorough. I will definitely be back!
Karen is AMAZING! For my first time injecting anything into my face, she did an incredible job describing how the muscles in your face work alongside Botox. I will for sure be going back ❤️
I drove 45 minutes to this office in flower mound and by far they exceeded my expectations! Karen Hoffmann is exceptional, patient and a wonderful experienced injector. Will be back
Karen is wonderful!! She takes the time to explain everything and how it will affect your look.
My experience was so so comfortable I enjoyed listening to Miss Karen answering my questions and she explained very well and she is very good at what she does I thank you Miss Karen for all you did for me today and enjoy meeting you 😊
Faye never disappoints and is extremely knowledgeable about what would be best for your skin. Highly recommend!!!!